> Moins 2's session
Profile
|
Sessions
|
Equipment
|
Photos
|
Statitics
Sessions list
•
Sessions history
•
Calendar
Type :
Kitesurf
Rider :
Date :
09/12/2012 [Sunday]
Spot :
Start :
---
End :
---
Duration :
3h
Wind :
14 at 20 kts North-East
Waves :
0.20 m
Mark :
8/10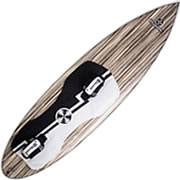 Brunotti KiteWave 5'6''


Best Waroo 2008 9.0


Other equipments used during the session

Takoon
Vegas

Takoon
Reflex 9.0

Comment
[47279]Ya bon...
Après a journée loose de la veille avec mes problèmes de valves. La journée a été bien meilleure. Pas mal de monde à l'eau, un vent de Nord Est entre 17/18 noeuds établis, un grand soleil... De bonnes conditions, quoi ! Je tente ma waroo à nouveau après la réparation d'hier. Elle tient. Je me lance avec la Vegas pour 1h de nav' sur Massy Massy. Backloop, backloop + kiteloop. Pas de gros saut, la waroo n'a pas de sustentation et la Vegas définitivement colle tropà l'eau.
Puis, je vais chercher la Brunotti. Et c'est parti pour 1h de travail ! Le jibe ne rentre pas mais je persévère. Puis je fais tomber l'aile à l'eau qui explose une latte arrière. Back to la plage.
Sandwich + Lorraine
Et c'est reparti, en brunotti mais cette fois avec la Reflex 2012 9m à l'essai. 1re sensation, elle est très dure en barre. Et elle a des réactions un peu inattendue au début. Le temps de m'y faire puis c'est parti pour 1h de nav' à nouveau. Cette fois, le jibe commence à rentrer, dont 5 ou 6 vraiment bien rentrés ! rapide, coulant, avec pas mal de vitesse en sortie de jibe... que c'est bon ;-) Bon, bien sur... sur un plan d'eau totalement flat, ça aide ! Pourvu que les alizées se maintiennent comme ça !

Related photos and files

They have also sailed

zitrone, [private] at Torvergata • marco-sunset at Palombina Nuova •

erwan at Le Vougo • Matthieu.T at La Seine • saikho at Break • C.2a at Capo di Feno • jmd11 at Port-la-Nouvelle (Nord) • Jogga at Couille • Vivelevent, [private], papy_staff at Saint-Aubin-sur-Mer • romulus76 at Le Havre (Port) • bat37 at Plage Est • NICO 76, benjbenj, Bonson at Sainte-Adresse • lois, davidde, ny76, [private] at Veulettes-sur-Mer • trestel22 at Trestel • choubidou at Lancieux • Fredmam at Montmartin-sur-Mer • [private] at La Rade • pierrre at Blériot-Plage • [private], F654, Manu, [private], flyingbreizh, [private] at Goas Treiz • soto at Collignon • inchala at Le Break/le Clipon côté mer • Mac, Badski at La Descenderie • vincent13, JibaY at Fos-sur-Mer •

[private] at La Catia • Nefastus at Famara •

Moustache at Herkingen • [private], hvr at Speed Run •

[private] at Le Morne lagoon