> Le Zatch's session
Profile
|
Sessions
|
Equipment
|
Photos
|
Statitics
Sessions list
•
Sessions history
•
Calendar
Type :
Windsurf (Waves)
Rider :
Date :
15/06/2019 [Saturday]
Spot :
Start :
11:00
End :
15:00
Duration :
3h
Wind :
15 at 35 kts North-West
Mark :
9/10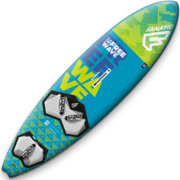 Fanatic Freewave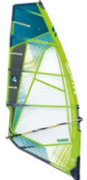 Gun Sails Torro 5.3


Other equipments used during the session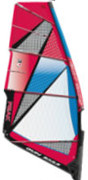 Gun Sails
Peak 4.7

Comment
Grosse renverse avec une houle entretenue par un flux de sud-est sur la Corse et une tramontane faible en matinée qui n'a pas cessé de forcir au fil de la journée.
Pas évident d'aller chercher les vagues qui cassaient brutalement sur le banc de sable, très gros courant dans la bahine... des conditions vraiment par évidentes dont je suis très heureux d'avoir pu tirer parti. Des sensations au top en début de session quasi seuls sur l'eau, avec de belles ondulations par moment et des superbes photos de Fred à la clef.
J'ai pu aller davantage titiller les vagues en 4,7 la dernière heure avant de filer récupérer Maëlle... c'était le deal pour pouvoir aller naviguer.
La suite a été énorme avec un vent devenu très fort et de beaux restes de vagues. Beaucoup de monde pour en profiter, y compris Fred Bonnet et Fred Dias... the place to be!

Related photos and files

They were also there

They have also sailed

[private] at Maccagno • Lumumba, Kiteron at Spiaggia 151 •

[private], [private] at New Golden Beach •

[private] at Les Générelles • Loïc_lions at Kernevest • yvo at Le minihic sur rance - plage de Garel • Kkite at Le Mentor • gaetan29 at Rivière de Pont l'Abbé • jefw at Pont Levis • Zonzon85 at Port Boucher • alloz at Kerambigorn • [private] at Place Neptune • KeziaCinema at La Garonne • ptitrobby, Julo56, Thomas, [private], [private], juli1, [private] at Pont-Mahé • Paul at Trestraou • Zorste at La Vieille Nouvelle • [private] at Étang du Ponant • Hal9000 at Les Rochelets • [private] at Pen-Bron • [private], mnx, Ray, phyrex at Les Moutiers-en-Retz • Yoda at Sant'Amanza • jaimeformigueres at Pont des Basses • babar86300 at L'Embarcadère • LALO at Kerhillio • refutribor at Le Kelen • marcsamu, [private] at La Mine • Slyfun66, [private] at Parc à Huîtres • Tomaz22, op2287, bauerben, bugsyjo at Le Palandrin • [private] at Les Sables d'Olonne • F970, jim62 at Port-la-Nouvelle (Nord) • Jules at Damgan (CND) • jack2nice at Palm Beach • tib14, neptol, Francois276, Chris76 at Courseulles • Xav76 at Saint-Raphaël • [private] at Coudalère • paulo56, nono56, Exocet56, matstco 56 at Saint-Colomban • laulau44 at L'Ermitage • Ricardo at Les Palissades • [private] at Les Dunes • mel29, gagardu29 at Yelen • uman at Le Casino • ridezebigone at La Franqui • [private], Averell Dalton at Mazerolles-La Bézirais • jeeve, xof999 at Moisson-Lavacourt • [private] at Cale de Poss'Du • [private] at Antifer • Mat_Wbzh22 at Sillon • jecoq at La Ganguise • Ced83 at Saint-Jean • jjf, [private] at Ouistreham • [private] at Petite Mer de Gâvres • wisu at Kersidan • bzh29 at Saint-Suliac • disco69, captain, SamBzh, nicopen, GIGI171, [private] at Lancieux • hardening at La Cantache • mikebzh44 at Le Pointeau • Alexandre at La Nautique • GRAVELIC, Daniel_56 at Centre Nautique • felfel50 at Coudeville-sur-Mer • [private] at Les Aresquiers • mousteir at Le Steir • PRU at Sciotot • vento29 at Atomic Spot • jl4429, AntoineS at Tharon • Pierreafond, Charles at Corse-Azur • penkear at Plage d'Aytré • [private] at Wissant •

[private] at Arenys de Mar • Raid at Dossel • Nefastus at Playita de Atrás • xavi12p at Piles • [private] at Calblanque • Patrickite at La Loteta Sur •

TAO189 at Eau d'Heure - Barrage de la Plate Taille •

jitter at Lagune Souk El Guebli •

Rafawind at Hope Beach •

oxi, oxi at Lagoon (Ocean Vagabond) • [private] at Moulay • Undefined spot gagardu29, [private], amied