> JVR's session
Profile
|
Sessions
|
Equipment
|
Photos
|
Statitics
Sessions list
•
Sessions history
•
Calendar
Type :
Windsurf (Waves)
Rider :
Date :
19/04/2019 [Friday]
Spot :
Start :
13:00
End :
16:00
Duration :
0h30mn
Wind :
15 at 35 kts West/North-West
Mark :
4/10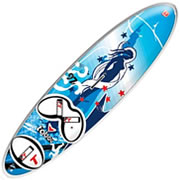 Tabou 3s 97 L


Neilpryde Search 5.0


Other equipments used during the session

F2
Guerrilla 78

The Loft Sails
Lip 4.2

Comment
Al principi fluix i ratxejat. Planejo casi tota la estona i agafo una onada, en poca estona comença a pujar i vaig molt incomode. Error entrar sense escarpins em destroso els peus. Cambio la taula (78)per veure si millora la cosa tensan la 5 m pero esta mes fort cada vegada. Decideixo cambiar vela monto 4,2. Pero sorto per la part mes propera al wind csmbrils ara em escarpins d estiu i em segueixo destrossan els peus. Vaig pasadisim i decideixo marxar. Rebentat de entrsr i sortir i amb el material que em pesa molt. No havia portat la 67 litres ni la 3,7. Tampoc escarpins gruixuts imprescindibles per picadero.

They were also there

They have also sailed

dadokite at Catane • Kiteron at Spiaggia 151 •

Shake at TSN 44.2 • mousteir at Tréguennec • [private] at Le Chenal • [private] at Sauveterre • christelle5108 at Bairon • kanaha7, [private] at Les Roquilles • tib14 at Goulien • nereides at La Guérite • [private] at Étang du Ponant • [private] at Les Cabines • [private] at Balistra • LALO at Sainte-Barbe • El_matelot at Pierrelatte • jaimeformigueres at Sainte-Marie-Plage • [private] at Hendaye • neric at Port La Nautique • Seb Corsica at Porto-Pollo • laulau44, [private] at Les Dunes • at Les Sables d'Olonne • 744, Pascal Leobet at La Madrague • Superseb at Palm Beach • at Les Crevettes • ralaoups at La Franqui • [private] at Le Goulet • Averell Dalton at Pors Gelen • sebouille at Penthièvre Océan • titi1965 at La Nautique • zorro at Port • sam33 at Maubuisson • [private] at La Bergerie • enzo27, drope at Carro •

[private] at Kanaha Beach Park •

cisco_ at Risco del Paso • Patrickite at La Pineda • robot at Pals • Raid, xavi12p at Port Saplaya • [private] at El Cabezo • [private] at La Zenia - Cala Cerrada • [private], [private], [private] at El Prat de Llobregat • Nefastus at Jameos del Agua • gonza85 at Isla de Arosa-Norte • [private] at San Xurxo •

[private] at Tobias Island •

[private] at Kessenich •

[private] at Carayou • bat37 at Pointe Faula •

csurfer at Silver Sands •

viking76 at Hua Hin •

Rafawind at Cloudy Bay •

FLascourreges at Anse La Raie • Got_29 at Le Morne lagoon